David Pezzat Photographers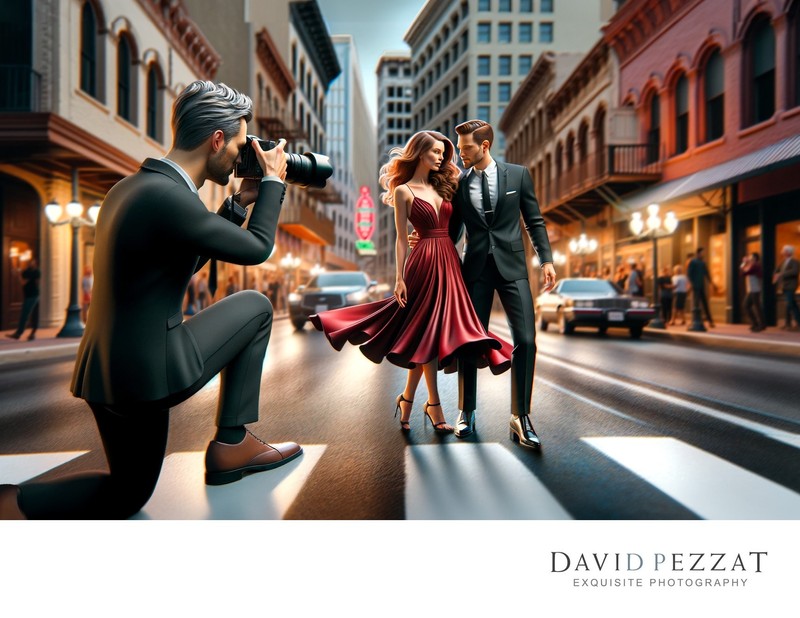 Welcome To My Wedding and Portrait Photography Website
As a professional photographer based in San Antonio, I understand the importance of hiring a skilled and talented photographer for your wedding. Your wedding day is one of your life's most essential and memorable events, and hiring a professional ensures that you will have beautiful, high-quality photographs to look back on for years.
As a wedding photographer, I have captured a diverse tapestry of nuptials, encompassing various cultures and traditions. My portfolio spans Christian, Jewish, and Persian ceremonies and a spectrum of Indian weddings. This wide-ranging experience has honed my skills and given me a deep appreciation for how love is celebrated across different communities.


My Wedding Photography Style
When I pick up my camera, I aim to tell my story honestly, with raw emotion, and creatively. I've always believed that the most genuine moments often happen spontaneously. That's why I'm so passionate about candid photography; it allows me to capture those fleeting, unscripted moments that truly reflect your love and happiness.
But I don't stop there. I've always been drawn to the art of photojournalism. As your day unfolds, I'll be there, documenting every step, from the getting-ready preparations to that last dance. Through my lens, I want to tell your unique love story.
While candid and photojournalistic styles capture the essence of the day, I also love to infuse creativity into my work. This could be playing with lighting, using unique angles, or even taking advantage of the natural surroundings to add depth and context to your photos. The aim? To not just document your day but to turn your memories into works of art.
In essence, my photography style is about balance. It's about blending the real with the creative, the seen with the unseen, and the emotions with the environment. I want you to look back at your photos and remember how everything looked and precisely how you felt then.
Learn more about candid photography at weddings.


A little about myself
Before becoming a full-time portrait and wedding photographer, I had the opportunity to work with several advertising agencies, where I photographed celebrities, business professionals, and politicians and filmed music videos, commercials, and high-profile events. My photographs have been published in national magazines, billboards, and other advertising media.
As an award-winning photographer and conference speaker, I have had the opportunity to mentor fellow photographers at conferences such as WPPI Wedding & Portrait Photographers International (USA), Bodaf (Mexico), Premera Convention de Fotografos en Columbia (Medellin, Columbia), Sociedad Mexicana de Fotografos Profesionales (Guanajuato, Mexico), and Foro de Fotografos (Argentina).
My passion for adventure and travel has led me to many destination weddings in Las Vegas, New York, Chicago, San Fran, Napa Valley, Taos, New Orleans, Hawaii, Puerto Rico, Costa Rica, Columbia, and Panama.
Thank you for considering me as your wedding photographer. I am confident that my passion, skill, and attention to detail will help me capture your special day's beautiful and unique moments. Please don't hesitate to contact me with any questions or to discuss your photography needs further.
Serving Areas:
I am proud to serve many cities in the surrounding area. In addition to San Antonio, I offer my services to clients in Helotes, Leon Valley, Selma, New Braunfels, Canyon Lake, Schertz, Boerne, Cibolo, Live Oak, and beyond.
Are you searching for a professional wedding photographer in the Rio Grande Valley? Look no further. Yes, we travel to the RGV. As a native of the Rio Grande Valley (RGV), I excel at capturing the essence and beauty of your special moments. Whether you're from McAllen, Mission, Edinburg, or South Padre Island, I'm here to preserve all your wedding memories.
Check out Great Indoor Locations in the RGV for Weddings Portraits



Pricing for wedding photography:
To receive a detailed estimate for my wedding photography services, please get in touch with me through my website's contact form or by email. Pricing for my services varies depending on the coverage amount and the packages you select.
As an example, one of my wedding photography collections includes:
- Pre-wedding day photo sessions with me, David Pezzat
- Coverage of the ceremony rehearsal
- Up to 10 hours of wedding day coverage by me and a trained photographer
- Edited a selection of approximately 800 photographs presented at a password-protected website.
- A 10"x10" bound album with the bride's choice of traditional or contemporary binding, containing 75 custom detailed photographs presented within 20 pages
- 4 heirloom photographs in 8x10 size
- Large portrait on canvas
- Negatives or digital files (at web or higher resolution) of the selection
This is just an example of one of my wedding photography collections. I am happy to work with you to create a customized wedding collection that meets your needs and budget.
Our Photography Services:
Bridal portraits
Family portraits
Wedding photo packages
Engagement Sessions
San Antonio wedding venues
Texas Hill Country wedding photography
San Antonio outdoor portrait photography
Hindu | Indian Wedding Photographer
Documentary wedding photography
Quinceañera Photography
Photojournalistic Wedding Photography
Couple Portraits
Maternity Photography
Event Photography
Wedding Albums
Creative Wedding Photography
David Pezzat Photographers | San Antonio
Address: 2145 NW Military Hwy #102, San Antonio, TX 78213
Contact: (210) 414-2382
Our Second Location in McAllen:
801 E Fern Ave suite 166, McAllen, TX 78501
@All Copyrights Reserved